The coronavirus era has presented a host of challenges for large corporations to small businesses alike. Those who learn to adapt and find new opportunities to accommodate their customer base will not only survive; they will thrive long after, life as we know it, has returned. With people maintaining social distance, and some being in complete isolation, giving your customers a way to reach out without leaving home is essential.
And if you haven't yet incorporated a live chat to your website to make contacting you easier, now is the time! Live chat is the best way to convert a visitor to a customer. And it is also an excellent way to build loyalty that will far outlive the coronavirus.
Benefits of Adding Live Chat to Your Website
Customers Prefer the Convenience of Live Chat
Even before the coronavirus forced us all to communicate remotely, live chat was an excellent way to provide convenience to the consumer. When people visit your website, reaching out to contact you takes an extra step to seek you out. According to Statistica, "51% of consumers are more likely to stay with or buy again from a company if they offer live chat support."
And, "20% of the shopping population prefers using chat to contact a retailer over any other communication method." When you make contacting you for information, ordering goods, or to provide support easy via live chat, you are likely to enhance the consumer's experience and create loyalty for the future.

It Saves Money
At a time when small businesses are scrambling to find cost-effective solutions to cut their operating budgets, live chat is an excellent tool to eliminate the need for a call center. And since it is text-based, you can communicate and help more than one customer at a time. When you are on a call, you have to give someone your undivided attention.
And you can only help one customer at a time. With text customer service, you can have one agent working with many people at once. That cuts down on employee hours since they can multitask and allows one employee to service many people at the same time.
More Quality Control
Live chat allows you more quality control when dealing with customers. If there is ever a question about a previous exchange, there is a written transcript of the conversation. That not only allows you to have the evidence you need about what transpired, should you need it; it gives you a way to keep track of your customer issues so that you can analyze where you are getting things right.
Live chat also allows you to track conversations according to things like keywords, customer demographics, support outcomes, or sales channels. The ability to comprise a database with rich information is an excellent tool to use for further live chat sessions, sales, and marketing.
Being Available When Your Customers Need you Most
There is nothing more frustrating than needing help and not being able to get it. With a live chat, you can be available more hours like during the evening and on weekends. That will make you more responsive to your customer's needs. And it will also build trust between you and the consumer.
When you provide people with the assistance they need, that isn't just a Q&A section on your website, it eliminates frustration and hard feelings on the part of the consumer. And even better, your employees can work remotely, so you aren't paying them to sit in an office idle. Being available when your customers need them is important now, during the coronavirus era, more than ever before. And the trust that you build will last for years to come.

It is an Excellent Tool for Service as Well as Sales
Live chat options are excellent for all types of small businesses. They not only help to increase sales, but they also help to provide service to your customers at a moment's notice. According to Forrester Research, live chat helps to reduce customers from dropping out during the purchasing process.
Therefore, it helps to increase sales and overall profits. "44% of online consumers say that having questions answered by a live person while in the middle of an online purchase is one of the most important features a website can offer." A live chat is also a great tool to discern where along the chain of purchase consumers drop out most often so that you can pinpoint those weaknesses in the process, and work to eliminate the potential that a customer will not follow through.
Gains Advantage Over Your Competitors
Although live chat is becoming quite popular, not many small businesses have it available to their consumers. If your website offers the ability to support the consumer, and to answer questions, you are going to beat out the competition that doesn't have the added convenience. When you are available more often, provide instantaneous service, and get consumer's questions answered fully when they need you most, they will always choose you over another provider, period.
Studies show that although 80% of companies believe that they offer their consumers "superior" customer service, only about 8% of customers agree that the same businesses offer "superior" service. So if you think that you are doing a great job providing the service that your customers need, you might want to think again.
You Can Respond More Quickly
The average wait time for consumers with live chat options is about 23 seconds, and usually no more than forty-two seconds. When you compare that to email, where the response time is about forty-five minutes to as much as seventeen hours, that is a huge advantage for customer satisfaction.
And although social media users expect that they will receive support within about five minutes to the same day, the top 100 U.S. retailers take about 24 hours to answer via Facebook, and eleven hours to respond to Twitter. That is a staggering difference between communicating with a consumer who needs support, wants to place an order, or just has a general question. The amount of goodwill that being immediately available builds, is immeasurable.
Take Action, Install Live Chat on Your Site!
Now more than ever being innovative by reaching out to your consumers where they live is critical not just to survive the coronavirus era, but to thrive in the post coronavirus boom. At Fu Dog Media we have partnered with livechatinc.com to provide our clients with the most advanced live chat tools available in the industry. Live chat options not only build loyalty and goodwill between you and the customer; they save you time and money. And they will position you well ahead of the competition.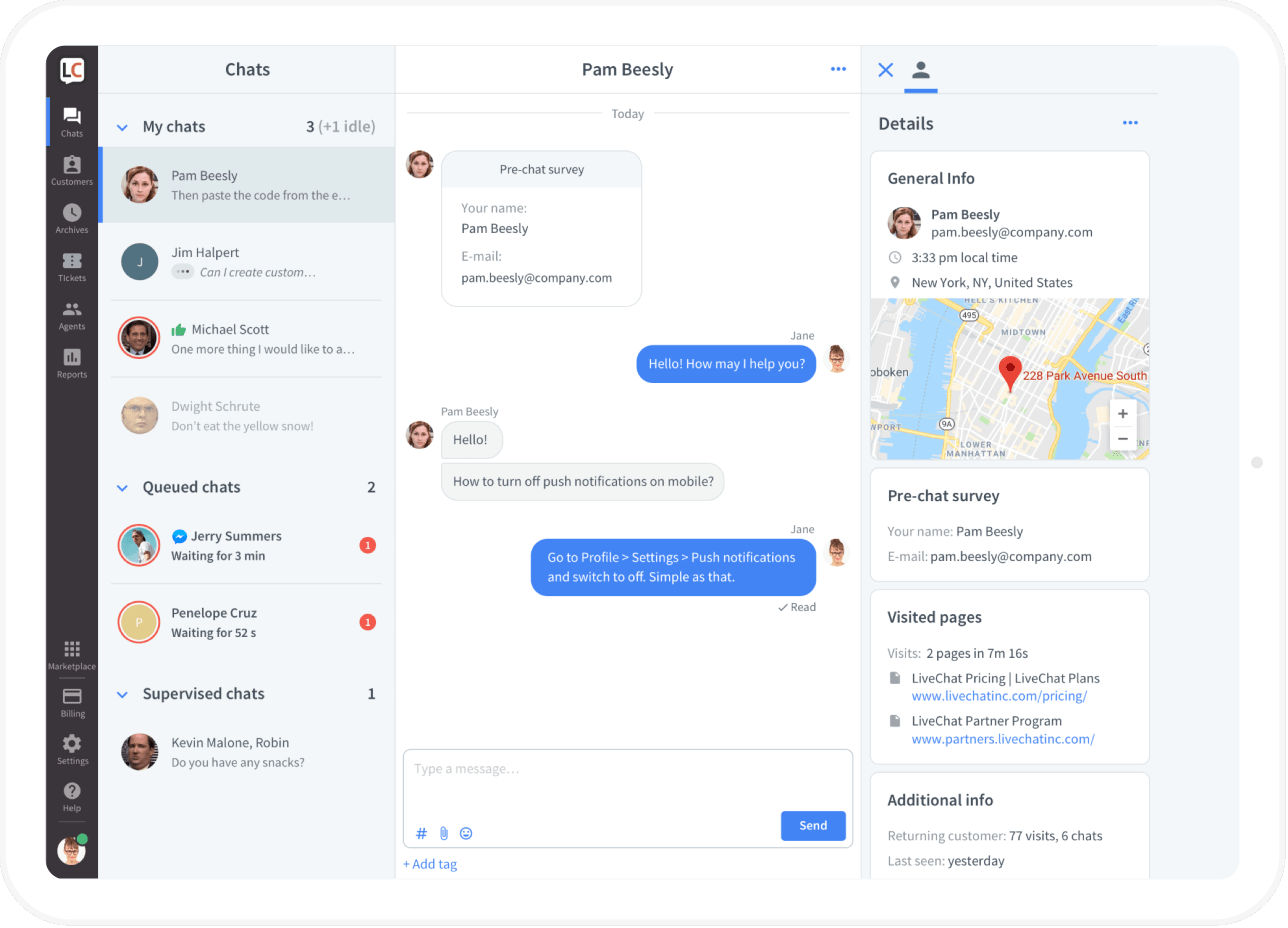 Contact us today and we'll set you up with a FREE 15 day trial and install everything.